Our Experienced Northern Colorado Staff
Management
Dan Sanger
Owner
Dan is the founder and owner of Southern Exposure Landscape. He graduated from Colorado State University in 1987 with a degree in Ornamental Horticulture & Landscape Management. He is involved in all facets of daily operations, but particularly enjoys planting and layout.
Russell Hoff
General Manager
Russell has spent the majority of his career as a general manager of several landscape and property management companies throughout Northern Colorado. His educational background includes a degree from Colorado State University in Landscape Design and multiple certifications within the green industry.
Karen Kile
Finance & HR Manager
Karen has spent her 20+ year professional career with various service companies handling all aspects of accounting and human resources. She discovered her love of numbers in the 3rd grade when she saw a family member using green ledger paper to track expenses – an accountant was born. She went on to earn her Accounting Degree from Metro State in Denver and continues to enjoy crunching numbers today.
Luke Wieben
Maintenance Manager
Luke has 8 years of experience in the landscape industry, starting as a member of an install crew and eventually working his way up to management. He continues to expand his knowledge today, actively pursuing all kinds of certifications and training opportunities. Born and raised on the Western Slope, Colorado is his home, relocating to the Front Range in 2012. In his free time, Luke enjoys a variety of outdoor activities, not to mention rooting for all the local sports teams!
Sales/Administration
Traveler Sr.
Office Assistant
Traveler was a constant fixture in the Southern Exposure office. He was responsible for maintaining company morale. He believed, however, that he was responsible for pruning and excavation. Traveler loved ALL food and most people.
Production
Miguel Montelongo
Senior Landscape Foreman
Miguel has been with Southern Exposure for 15 years. He is an artist with all hardscape elements and an absolute master with flagstone. His attention to detail and work ethic define his work.
Joe Sanger
Construction Foreman
Joe has moved up in the company by constantly improving his knowledge of the industry, and by showing his aptitude for operating heavy machinery. He is also licensed by the state of Colorado as a spray technician.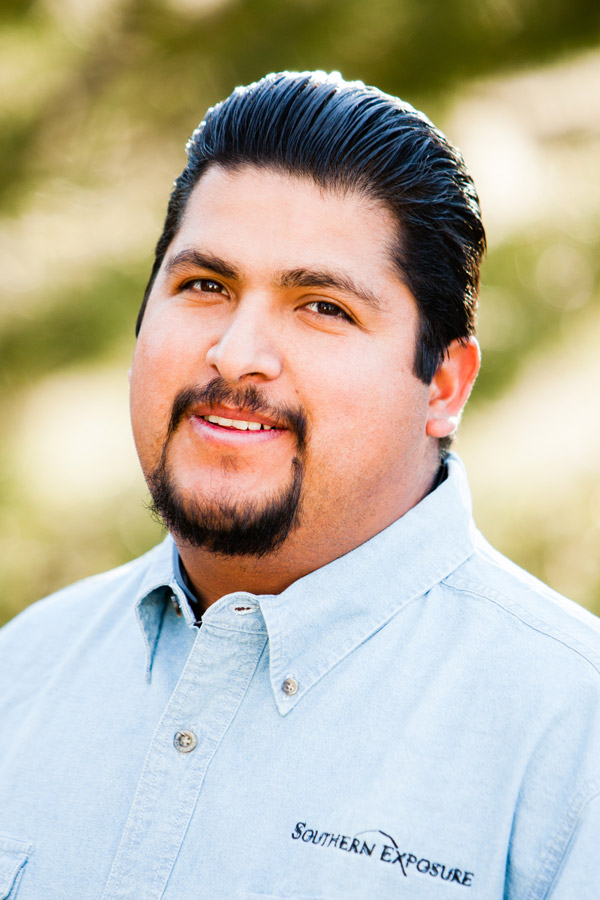 Ricardo Ortega
Construction Foreman
Ricardo is well-rounded in all facets of landscape construction. He started as a crew member 12 years ago, and has learned the Southern Exposure standard of irrigation, planting and hardscape.